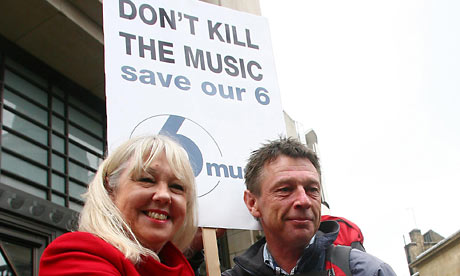 In news that will have music fans waving their cardigans above their bespectacled heads in delight, the BBC Trust has rejected the
BBC's
plan to close its station,
6 Music
.
BBC Trust chairman Sir Michael Lyons - in a move that is sure to have lovers of indie music rushing to hug him like an especially emotional
Morrissey
fan - said that the case for the closure of 6 Music hadn't been made.
The initial decision in March to cut 6 Music - a station that plays alternative tunes and offers presenters such as Jarvis
Cocker
, Lauren Laverne, Andrew Collins, Richard Herring and Adam & Joe - was greeted with fury by marginalised music enthusiasts and led to a high-profile and well-organised protest campaign involving several bands, industry people and thousands of
like-minded
listeners. In announcing the decision to deny the closure of 6 music, Lyons
admitted
that, "There is no doubt there was a strong public response."
Today, Lauren Laverne posted on her Twitter, "6Music has been saved.
Hooooorrrayyyyy
!" Steve
Lamacq's
rather
flamboyant
use of exclamation marks
("Top work everyone!!!
") suggested he was excited too, and Stuart
Maconie
was also keen to
exclaim
his happiness,
"
You did it kids!!
"
Bobby Six headquarters is
soundtracked
by 6 music, so I would like to add my
congratulations
to all at the station, and add a big pat on the back to everyone involved in protesting. This is a victory for people who say no to being force-fed the latest auto-tuned, shiny and soulless dross that the commercial stations and the big labels constantly rotate. Simply, it is a victory for common sense and for good taste.