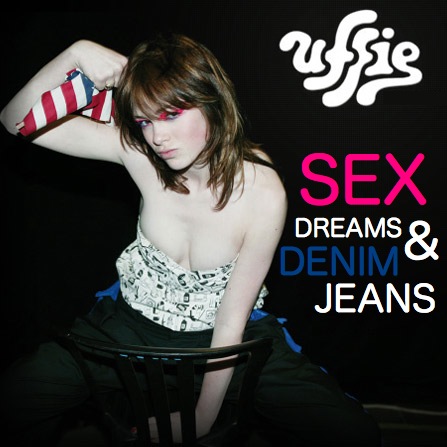 If
Pop The Glock,
the autotuned opener of Uffie's
Sex Dreams & Denim Jeans,
sounds dated, that's because it was first realeased over four years ago. God knows why it has taken so long for her debut album to land, but, there is no doubting its tardiness has allowed
Ke$ha
to steal in and pull the rug away somewhat.
So, has Uffie, Anna-Catherine Hartley if we're being formal, missed the boat completely? Well, while her press-release proudly boasts,
"It may have taken five years to arrive, but Uffie has delivered a captivating masterpiece,"
NME
disagrees, scoring the album 0/10 and declaring,
"If you like Uffie, then you really are an idiot."
So which is true? Well, neither.
"I never claimed I was an artist, I can't even sing, you know?"
she shrugs during
Our Song
, and at times it feels like
Sex Dreams...
is merely serving to confirm Uffie as a vacuous novelty act. But, while her rhymes are often painful and her cutesy spoken word rapping style grows tiresome, there is something about her slacker attitude that is enjoyably rock 'n' roll. The bloodymindedness of getting away with it - continuing to succeed where many more talented singers have failed - will resonate with anyone who feels they are punching above their weight.
On top of all that, there are a few good moments and some fine production - all French disco,
electronic squiggles and synth
s.
Art It Uff
is a middle finger to the haters,
MCs Can Kiss
is fast and furious in its 80s rap and
ADD SUV
mixes squidgy electro with the American cool of Pharell Williams.
So, neither an especially good album nor the kind of horrorshow that some would have you believe, the simple fact is that
Sex Dreams...
has arrived too late and subsequently comes across more pastiche than zeitgeist.
"Three tracks a year and they still talk about me,"
Uffie boasts. True, but had this been released in 2006 rather than now, we'd have been talking about her a whole lot more.